CMF is jointly implementing a project on the anti-corruption theme in collaboration with Development Communication Society Nepal (SODEC-Nepal), Nepal Centre for Contemporary Research (NCCR) and Organization Development Center (ODC) with support from the Embassy of Denmark, Embassy of Switzerland and DFID. CMF will work closely with anti-corruption agencies, various District Development Committees (DDCs) and other governmental and non-governmental stakeholders on several anti-corruption/good governance issues by mobilising mass media at local, regional, national and international level. This project will remain in operation for two and half years.
Progress
STREAC orientation programme
An orientation programme for four partner organisations in Strengthening Citizen Engagement in Anti-Corruption Efforts (STREAC) project was organised by lead partner Development Communication Society (SODEC) on 15 March in Kathmandu. Altogether 19 people from partner organisations that also include ODC and NCCR attended the programme.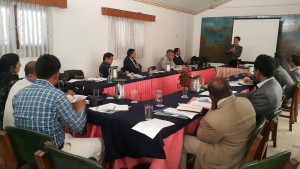 Participants in the programme discussed project activities and responsibilities of each consortium partner. Project Director Dr. Pius Mishra, Project Coordinator Mr. Prakash Ghimire, CMF's Executive Director Mr. Bimal Gautam and SODEC's Financial Consultant Mr. Binod Dhungana delivered presentations on different crosscutting issues relating to the project. CMF Chairperson Mr. Dhrubahari Adhikary gave his observatory remarks on the programme. Governance Facility (GF) Representatives Mr. Jit Gurung and Mr. Uttam Upreti also gave short speeches in which they told partner organizations about GF's expectations in implementing and reporting project activities under guidelines provided by GF.
Presenters and participants were engaged in interactive discussions in which participants forwarded their concerns and queries that were explained by the presenters. CMF's Project Coordinator Ms. Sharada Rijal and Communication Officer Mr. Bindesh Dahal asked presenters about GESI issues and programme reporting formats. Overall, the programme emphasised on coordination, consideration and collaboration among partners in project activities.
 Expert Advisory Committee meeting
Anti-corruption Expert Advisory Committee meeting for the project "Strengthening Citizen Engagement in Anti-Corruption Efforts (STREAC)" was held on Thursday at Centre for Media Freedom (CMF) office, Kupondole Road, Lalitpur. The meeting was attended by members of the Advisory Committee, STREAC project staff and SODEC representatives.
CMF Executive Director Mr. Bimal Gautam briefed Advisory Committee members about the objectives of the STREAC project and also informed them about fellow consortium partners: SODEC, NCCR and ODC. Emphasizing on the project's coordination with the Commission for the Investigation of Abuse of Authority (CIAA) and other anti-corruption agencies, Mr. Gautam said that the Committee will guide project activities. He then requested Committee members to provide their constructive feedback, technical inputs and valuable suggestions on the overall activities of the projects.
Committee member Mr. Komal Prakash Ghimire expressed happiness regarding project activities saying that these activities strengthen anti-graft bodies' works. He also provided suggestions on sketching anti-corruption cartoons.
Another member Mr. Madhab Paudel said that students can be imparted knowledge of United Nations Convention against Corruption that broadens CIAA and anti-corruption bodies' jurisdiction.
Likewise, another member Mr. DhrubaHari Adhikary said that student sensitisation  programme can contribute to create pressure on policymakers to build robust anti-corruption measures.
Similarly, another member Mr. Niranjan Baral said that students can be sensitised about corruption so that they would assist in anti-graft bodies' efforts to alleviate corruption in Nepal.
Project Director Dr. Pius Mishra said that the Committee will hold together all consortium partners so that the project runs smoothly.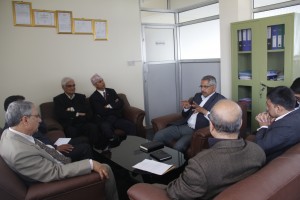 Before requesting Committee members to provide their suggestions, Project Coordinator Ms. Sharada Rijal had showed them anti-corruption sketches prepared by a creative designer hired by CMF to be disseminated as part of instructional materials to college-going students. She had also asked for suggestions on pre- and post-test questions to be distributed to students to gauge their level of knowledge about corruption. Committee members gave their suggestions on improvements to be made on the sketches to make them easily understandable for students and said that they will provide technical suggestions on preparing questions.
Anti-corruption Expert Advisory Committee was formed on 26 February to advise, interact with and provide technical inputs on STREAC project.
STREAC project launch programme
Formal launch of Strengthening Citizen Engagement in Anti-corruption Efforts (STREAC) project was held on Friday at Lainchour, Kathmandu. Altogether 35 people including representatives of anti-corruption governmental agencies like Commission for the Investigation of Abuse of Authority (CIAA), Department of Money Laundering Investigation (DMLI) and Special Court along with consortium partners, Anti-corruption Expert Advisory Committee members and other anti-corruption experts attended the programme.
Organised by lead partner in STREAC project, SODEC, the programme sought to gather feedback from experts on project activities and working modalities. CMF Executive Director Mr. Bimal Gautam delivered a short presentation on status of corruption in Nepal and STREAC project's relevance. Saying that the project envisioned strong corruption control agencies, he requested experts to provide constructive feedbacks for the smooth operation of the project.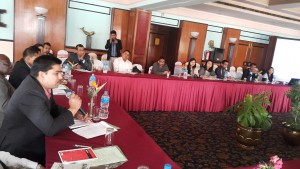 Project Director Dr. Pius Mishra in his presentation provided the project overview and explained all major activities in detail. Key areas of the project like civic education, media mobilisation, researches and expert inputs are innovative concepts which will initiate a mass movement against corruption, he added.
Anti-corruption Specialist Mr. Niranjan Baral, while commenting on project activities, said that the project has arrived at the right moment. He further said that all kinds of interventions to alleviate corruption are essential and encouraging young students and journalists against corruption is the beauty of this project.
Mr. Hari Tiwari from Social Welfare Council wished success of the project and gently reminded consortium partners to abide by organisational rules. Mr. Chhabi Bhattarai from DMLI suggested consortium partners to expand activities against corruption based on researches on corruption-prone geographical regions and sectors. Special Court Registrar Mr. Bhadrakali Pokharel praised the project for its clear identification of focus areas and hoped that it would develop sense of high dignity in general public. Corruption occurs in those places where authority's discretionary powers are immense but transparency and accountability are missing and it would be wonderful if the project's research component focused on it, he added.
Anti-corruption Expert Mr. Narayan Manandhar in his candid talk suggested consortium partners to review weaknesses of past projects of similar nature so that the mistakes would not be repeated. He also asked partners to read latest literature on citizen engagement and said that he is open to provide consultation on project activities.
Expert Advisory Committee member and CMF Chairperson Mr. DhrubaHari Adhikary provided his observatory remarks and said that the project should move ahead with positive thoughts. Dr. Ken Afful from the ODC said that his organisation will train young journalists on good governance to make this project a success and also for the betterment of society. Project Director Dr. Pius Mishra thanked all for participating in the programme and said that he had a great learning experience. Mr. Suman Poudel from NCCR extended a vote of thanks to all and said that consortium partners will incorporate all suggestions raised in the programme from experts.