Kathmandu, 24 June (2018) – Centre for Media Freedom (CMF) and its partner organization Development Communication Society (SODEC-Nepal) have interacted with top government officials on the issue of governance Friday.
The organizations, which have been working in the field of anti-corruption for the last three years, reported their activities under Strengthening Citizen Engagement in Anti-corruption Efforts (STREAC) to Joint Secretary Alok Chandra Shrestha at Office of the Prime Minister and Council of Ministers (OPMCM). Also present of the occasion were other top officials including Koshal Chandra Subedi, Joint Secretary, and Laxmi Gautam, Under Secretary at OPMCM.
STREAC Project Director Dr Pius Mishra briefed Joint Secretary Shrestha about the project and its activities.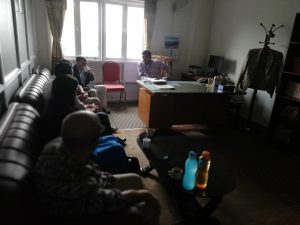 Under the project, CMF had earlier submitted three separate reports with recommendations from the private sector regarding amendment and framing of laws in line with United Nations Convention against Corruption which Nepal is state party to. The organization had worked in close coordination with OPMCM in organizing three workshops with private sector in which modality of UNCAC compliance and the concerns of the private sector was comprehensively discussed. OPMCM, while accepting the report, had given its word that the recommendations will be incorporated while framing and amending laws and also while facing peer reviews on UNCAC compliance from UN-member countries.
Under Secretary Gautam informed that the peer review report is being prepared and reports from non-government organizations like CMF and SODEC-Nepal will help the government to take concrete action towards UNCAC compliance. The government has asked for contributions from different I/NGOs while preparing the peer review report and CMF's report has been a great asset, he said.
He also said that his office will seek consultations and assistance from NGOs like CMF which can provide verifiable data to the government so that it can produce a credible report.
Joint Secretary Subedi also said that CMF's report will be valuable in preparing the peer review report and also while framing laws. He informed that Act on witness protection and whistleblower protection is being framed and amendment of Prevention of Corruption Act is being drafted to make domestic laws compliant to UNCAC.
STREAC project's Anti-corruption Expert Advisory Committee member and Senior Advocate Geeta Pathak Sangroula lauded the interaction between government and non-governmental organizations and also emphasized on the reciprocity of inter-governmental agencies.