Centre for Media Freedom (CMF) and Development Communication Society (SODEC) on Wednesday handed over two booklets containing suggestions about laws to be amended in line with United Nations Convention against Corruption (UNCAC) compliance to the Joint Secretary at Office of the Prime Minister and Council of Ministers (OPMCM).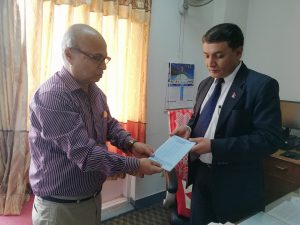 Strengthening Citizen Engagement in Anti-corruption Efforts Project Director Dr Pius Mishra handed over booklets to Joint Secretary Phanindra Gautam at the latter's office. Also present on the occasion were Anti-corruption Expert Advisory Committee member Geeta Pathak Sangroula, Anti-corruption Policy Expert Bimal Gautam, Project Coordinator Sharada Rijal and Communication and Documentation Officer Bindesh Dahal.
Joint Secretary Gautam thanked CMF and SODEC for preparing the suggestion booklets and said that his office will incorporate the suggestions while framing and amending laws in line with UNCAC. Government of Nepal has to engage with the private sector for UNCAC implementation therefore coordination with CMF and SODEC was significant, Gautam said.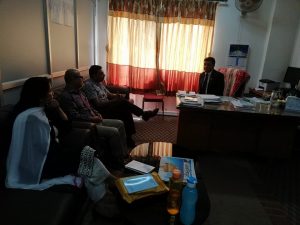 STREAC Project Director Dr Mishra thanked OPMCM for cooperating with CMF and SODEC in taking discussion on UNCAC extensively. He requested Joint Secretary Gautam to follow up with the suggestions and also provide a formal written feedback to the booklets.
Expert Advisory Committee member Sangroula said that there are gaps and lacunae in laws after the Constitution removed Commission for Investigation of Abuse of Authority's jurisdiction on investigating on "improper conduct". This removal may present challenges to Nepal during the review, she said.
The two booklets have been prepared by CMF after two interactive consultation workshops organised in September and December. Representatives from the Cooperatives sector and civil society organisations had attended the workshop and given their suggestions on the need of implementing UNCAC in private sector and laws to be amended or framed for UNCAC compliance. (News of the programmes can be found here).
The booklets can be found here.
Published on 28 March 2018