Five orientation programmes for college students were held at Dhankuta district from 18 to 20 March 2018.
As part of Strengthening Citizen Engagement in Anti-Corruption Efforts (STREAC) project, the programme was organized by Centre for Media Freedom (CMF) in collaboration with consortium lead Development Communication Society Nepal (SODEC) with support from Governance Facility.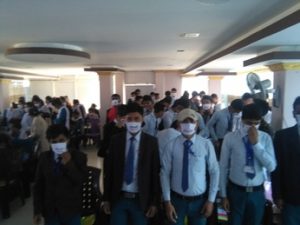 Around 460 students studying in Bachelor and Higher Secondary Level took part in half-day programmes in four venues. Students from Dhankuta Multiple College, Dhankuta Institute of Health Science and Gokundeshwar Secondary School were oriented by experts in governance.
The students were provided with educational materials, reference resources and informative kits on anti-corruption and accountability. They were also shown enter-educative TV programme "Seedha Baato" prepared by comedian Jitu Nepal and his team.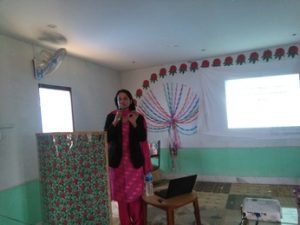 Prof. and Senior Advocate Geeta Pathak Sangroula, who has conducted many independent research projects on anti-corruption and served in different government panels in governance matters, gave power point presentations about definition, types and impacts of corruption and students' role in combating graft.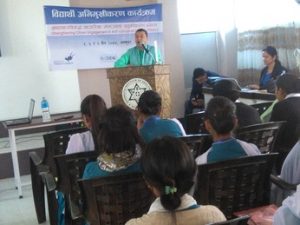 Similarly, Senior Journalist Mr. Rajendra Phuyal who is Senior Correspondent at Kantipur daily gave a presentation on possible corruption at local level in Nepal and the role students can play in combating it.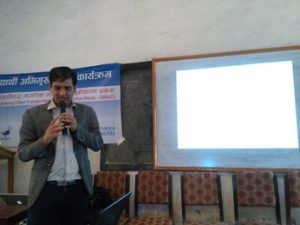 Journalist Dilip Poudel, Correspondent at Nagarik daily, also gave presentation of students' role in anti-corruption. He showed cartoon sketches about corruption practices and urged students to avoid following corrupt practices.
The students had intense interaction with experts during the orientation programmes. Students in all the programmes enjoyed the enter-educative TV programme as well as experts' presentations.
In the course of the programme, pre-test and post-test questionnaires were administered to students before and after the orientation to gauge their knowledge level of anti-corruption.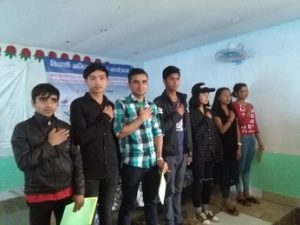 At the end of the programme, students at Gokundeshwar Secondary School initiated their engagement against corruption. To that end, they formed a loose alliance to carry out different activities on anti-corruption measures like essay writing, debates and awareness campaigns among others.
Published on 22 March 2018