Kathmandu, 27 December (2017) – Centre for Media Freedom (CMF) on Wednesday handed over booklet containing suggestions about laws to be amended in line with United Nations Convention against Corruption (UNCAC) compliance to the Secretary at Office of the Prime Minister and Council of Ministers (OPMCM).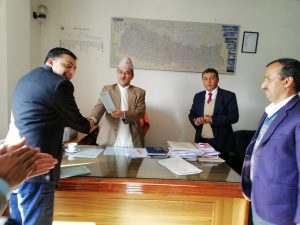 Strengthening Citizen Engagement in Anti-corruption Efforts project's Anti-corruption Policy Expert Bimal Gautam handed over the booklet to Secretary Rajiv Gautam at the latter's office. Also present on the occasion were Joint Secretary Phanindra Gautam and Under Secretary Laxmi Gautam.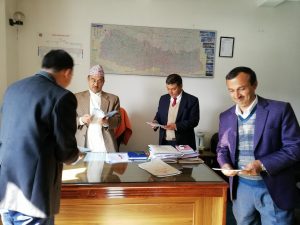 Secretary Gautam thanked CMF for preparing the suggestion booklet and said that his office will incorporate the suggestions while framing and amending laws in line with UNCAC.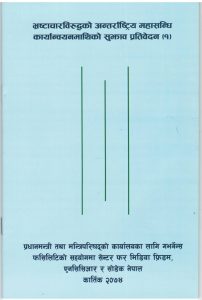 The booklet is first of the three, prepared by CMF after an interactive consultation workshop organized in June following an informal agreement with OPMCM. Representatives of regulatory bodies in banks and financial institutions like Nepal Rastra Bank, Insurance Board, Securities Board and other institutions had attended the workshop and gave their suggestions on the need of implementing UNCAC in private financial sector and laws to be amended or framed for UNCAC compliance. (Details of the programme can be found here).