Participants in a programme organised in Lalitpur on Monday (September 18, 2017) emphasised the need of curbing corruption in cooperatives sector.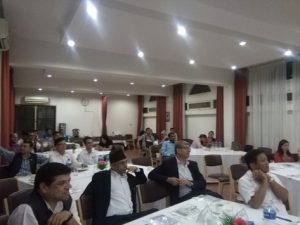 During the consultation workshop on 'Promoting good governance, transparency and accountability in cooperatives sector in line with UNCAC compliance', participants from cooperatives sector and government officers overlooking the sector had a common view that cooperatives sector is transparent  but still there is a need of eliminating scope for corruption.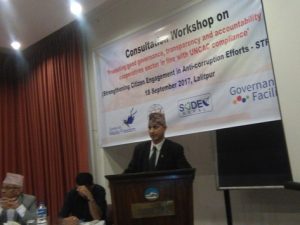 Madhab Paudel, Chairperson of Nepal Law Commission, gave a presentation on the importance of United Nations Convention against Corruption (UNCAC) and steps taken by Nepal to comply with it. Another expert Gauri Bahadur Karki, Former Chairperson at the Special Court who also served as Coordinator of High Level Commission to Probe into the Troubled Cooperatives, gave a presentation on the current condition of cooperatives and the problems facing that sector.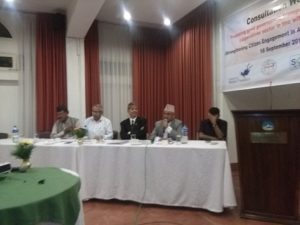 Keshab Badal, Chairman of National Cooperative Federation of Nepal, commented on the presentations. He took exception to the accusations that cooperative organisations have indulged into corruption and said that cooperatives have maintained accountability. He warned that there were efforts to discourage cooperatives sector and that the sector welcomes any regulation including UNCAC for further maintaining good governance.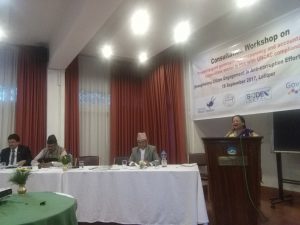 Champa Devi Khadka, State Minister, Ministry of Cooperatives and Poverty Alleviation, lauded the programme and said that cooperatives sector should abide by laws and regulations.
Keshav Prasad Regmi, Registrar, Department of Cooperatives and Bharat Prasad Acharya, Principal, Central Cooperatives Training Centre said that cooperatives sector has to be strict with wrongdoers who have mismanaged public money.
Gopinath Mainali, Secretary, Ministry of Cooperatives and Poverty Alleviation, said that the society needs to abide by good conduct so that there is no need of law.
Phanindra Gautam, Joint Secretary at the Office of the Prime Minister and Council of Ministers, informed about his office's initiatives in framing and amending laws for UNCAC compliance.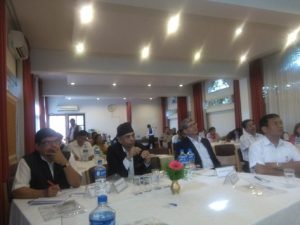 Different representatives of cooperative organisations said that cooperatives are ready to be regulated but such regulation should not discourage the sector's further development.
Media persons were also present in the programme. Most of the participants commended the relevance of the programme and said that further discussions on similar topic would be fruitful.
The programme was jointly organised by Center for Media Freedom, Development Communication Society Nepal and Nepal Centre for Contemporary Research and supported by Governance Facility.
Published on 19 September 2017