With the aim of promoting post-conflict reconciliation through capacity building of media professionals, Centre for Media Freedom (CMF) in coordination with Federation of Nepali Journalists, district branches and with support from the Direct Aid Program of the Australian Embassy in Nepal organised seven training programmes in seven districts in three phases.
In the first phase, two-day training programme was conducted in two districts from the central region, namely Ramechhap and Sindhuli. The training was held from 12 to 13 November in Ramechhap and from 14 to 15 November in Sindhuli.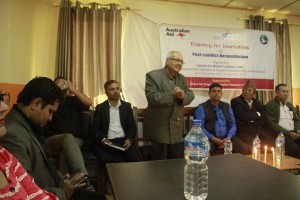 Each programme was divided into inauguration and working sessions. On the first day of the programme, distinguished guests delivered speeches during the inauguration session. These guests wished success of the programme and urged participants to make full use of the time spent on the training to enhance their journalistic skills.
During the working session in first and second day, key resource person Mr. Rama Krishna Regmee, senior journalist Sushil Panta, legal expert Mr. Pushpa Raj Poudel and FNJ District Chief Ramesh Dhungel (in Ramechhap) and FNJ District Chief Dwarika Kafle (in Sindhuli) gave their power-point presentations.
After the presentations, the floor was open for group discussions. Participants actively took part in the discussion and asked various questions to the trainers on the contents of the presentation and also shared their own experiences of doing journalism in the district.
On the second day, the programme started with the recap of the first day activities. After the recap and small discussion, local coordinators of respective districts gave their power-point presentations on the local practice of self-regulation in journalism. Almost all presenters said that journalism at the local level needed self-regulation as there were plenty of malpractices going on. The floor was then open for the discussion on the presentation in which the participants actively contributed to the debate.
After this, the programme again took a formal turn as the closing and certification session started. Two participants, one male and one female, then, shared their experiences of the training programme. Afterwards, trainees were awarded certificates on the completion of the training to participants and closed the session with a vote of thanks to all. Then a group photo of participants and trainers was taken.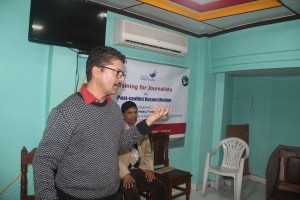 In the second phase, training took place at three districts from Western Region, namely Baglung, Syangja and Gorkha from 24 to 29 November. Media Expert Mr. Binod Dhungel was the key resource person in all the training sessions while Mr. Bindesh Dahal, Mr. Dilip Paudel and legal expert Mr. Ram Sharma along with FNJ district chief (in Gorkha) Bhimlal Shrestha also gave presentations in different topics.
The third phase of the training took place in two districts in the mid-western region, namely Surkhet and Dang from 6-7 December (Surkhet) and 9-10 December (Dang). Here too, Mr. Binod Dhungel was the key resource person whereas local experts and FNJ district chiefs also gave presentations.