Anti-corruption Expert Advisory Committee meeting for the project "Strengthening Citizen Engagement in Anti-Corruption Efforts (STREAC)" was held on 12 September at Centre for Media Freedom (CMF) office, Kupondole Road, Lalitpur. The meeting was attended by members of the Advisory Committee along with CMF and Development Communication Society-Nepal (SODEC) representatives.
At the commencement of the meeting, Project Director Dr. Pius Mishra formally welcomed new members of Expert Advisory Committee, namely Mr. Drona Raj Regmi and Ms. Geeta Pathak Sangroula, and briefed them about the project. He also requested all members of the Committee to provide their inputs on project activities.
After this, Anti-corruption Policy Expert Bimal Gautam told Committee members about the connection between the project and state mechanisms and how the project helps state agencies to fight corruption.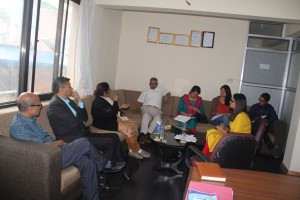 After being briefed about project activities and progresses made so far, Ms. Geeta Pathak Sangroula suggested consortium partners to research on issues of policy-level and structural corruption and disseminate it through mass media.
Another member Ms. Usha Nepal floated the idea of raising the issue of corruption in public procurement.
Similarly, Mr. Drona Raj Regmi advised SODEC Nepal about running an episode on lacunae in laws to curb corruption.
Earlier, Project Coordinator Ms. Sharada Rijal and Reporting and Documentation Officer Ms. Asmita Manandhar had respectively briefed the members about CMF's and SODEC Nepal's activities carried out so far.
Anti-corruption Expert Advisory Committee meeting is held every three months. Three meetings have been held so far.